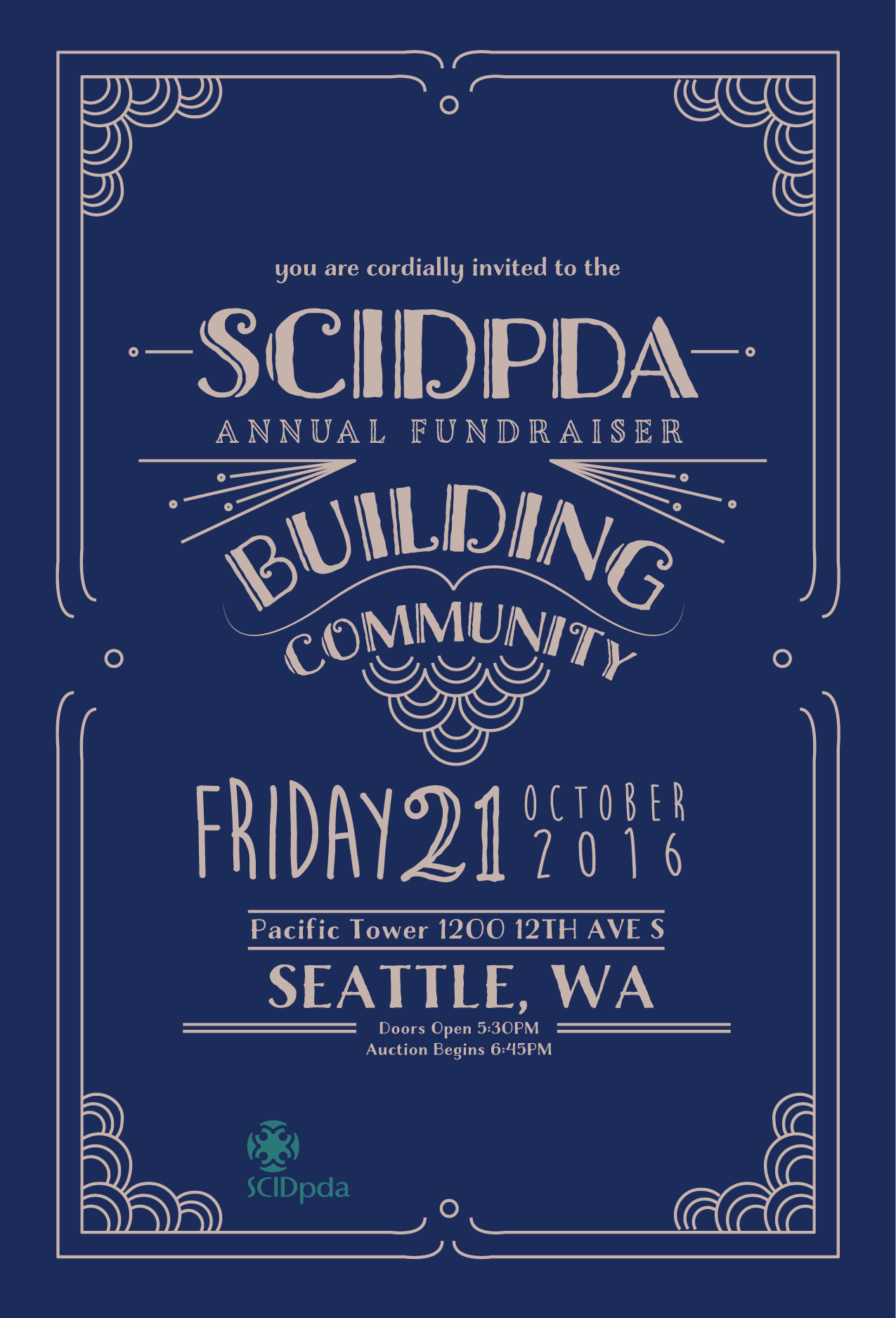 What
2016 SCIDpda Annual Fundraiser
When
Friday, October 21, 2016
Doors open at 5:30 p.m.
Auction begins at 6:45 p.m.
Where
Pacific Tower, 8th Floor
1200 12th Ave S.
Seattle, WA 98104
Directions & Parking
Visit FareStart Pacific Tower Directions & Parking for information.
About the Fundraiser
We are excited to host 2016's fundraiser at the Pacific Tower in partnership with FareStart, who will be providing us with light dinner and cocktails for the evening. We'll also be bringing a bit of the neighborhood along with us through our desserts, which will be made by Fuji Bakery and Oasis Tea Zone!
True to our usual style, this fundraiser will be a floating cocktail reception–think casual mingling about the room while enjoying our refreshments and the gorgeous view that overlooks our neighborhood. We are pleased to have auctioneer Laura Michalek joining us once more for a live auction, and we're equally thrilled about our auction items, which include art from Enfu and a classic hand-knit sweater from none other than Sue Taoka.  Then, ukulele musician Arden Fujiwara will treat us to a special performance to cap off the evening.
Our annual fundraiser provides critical support for SCIDpda, which ensures through preservation and development efforts that the Seattle Chinatown International District remains healthy, safe, and vibrant. We hope you'll join us for the fun, and most importantly, for the good cause.
Space is limited, so reserve your tickets today!
Thank you to our sponsors:
Heritage Bank
JPMorgan Chase & Co.
Marpac Construction LLC
Fidelity National Title
Inland Group
TCMS
Coughlin Porter Lundeen
Crown Construction
Finney, Neill & Company, P.S.
Jergens Painting, LLC
Miller Hayashi Architects LLC
Mithun
MRJ Constructors/Inscape Arts
Rolluda Architects, Inc.
SAGE Architectural Alliance
SMR Architects
Vulcan Inc.