About the Project:
The Seattle Chinatown International District Preservation and Development Authority (SCIDpda) is a community development organization whose mission is to preserve, promote, and develop the Seattle Chinatown International District (CID) as a vibrant community and unique ethnic neighborhood.
SCIDpda is seeking mural artists or artist teams to design and install a publicly viewable painted mural on the Beacon Pacific Village site exterior located in the North Beacon Hill area on the historic Pacific Hospital Campus in Seattle, Washington. The Beacon Pacific Village development project is currently in construction and will be completed in August 2024. Phase 1 of the development would include:
160 units of affordable, family-sized housing (20% of which will be 3- or 4-bedroom units)
A program for All-inclusive Care for the Elderly (PACE) which will be owned and operated by International Community Health Services (ICHS)
The Jose Marti Child Development Center, which will be leased and operated by El Centro de la Raza
Proximal to the iconic Pacific Tower, which is home to Seattle College's health education programs and a dynamic hub for other vital and innovative community nonprofits in health care, education, social services, and job creation.
SCIDpda hopes to fight displacement with this project as:
Beacon Hill and the CID have been identified by the City as communities that are at high risk of displacement due to increasing development pressures and gentrification.
Families in the area often live in multi or intergenerational housing. Providing adequate housing opportunities for these families is critical in preserving the communities that are being pushed out of Seattle due to rapidly increase market rents and lack of market produces family-sized housing.
Collocating childcare facilities and elderly care facilities will provide additional support and services that will allow these families to remain in the communities they have called home for generations.
Potential mural themes and values:
History
Family
Community
Healing
Belonging
Inclusion
Journey
Intergenerational
Location:
The Beacon Pacific Village is a mixed-use community development on the north lot of the historic Pacific Hospital Campus. In order to maximize the 3-acre parcel and public resources, the project will be constructed over 2 phases. The first phase broke ground in November of 2022, and is expected to be completed by August of 2024.
We would like to acknowledge that we are on the traditional land of the first people of Seattle, the Duwamish People past and present and honor with gratitude the land itself and the Duwamish Tribe.
Learn more about the site:
Seattle's Beacon Hill by Frederica Merrell and Mira Latoszek
Mural Specifications:
Mural Dimensions: 50' width x 6' length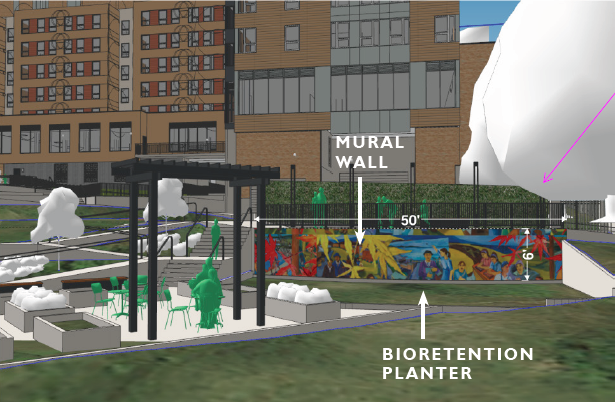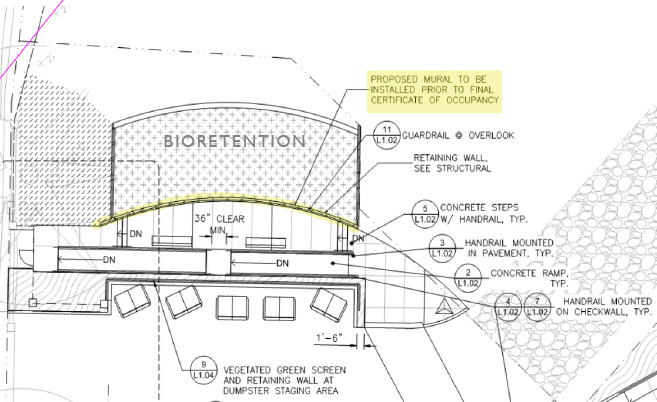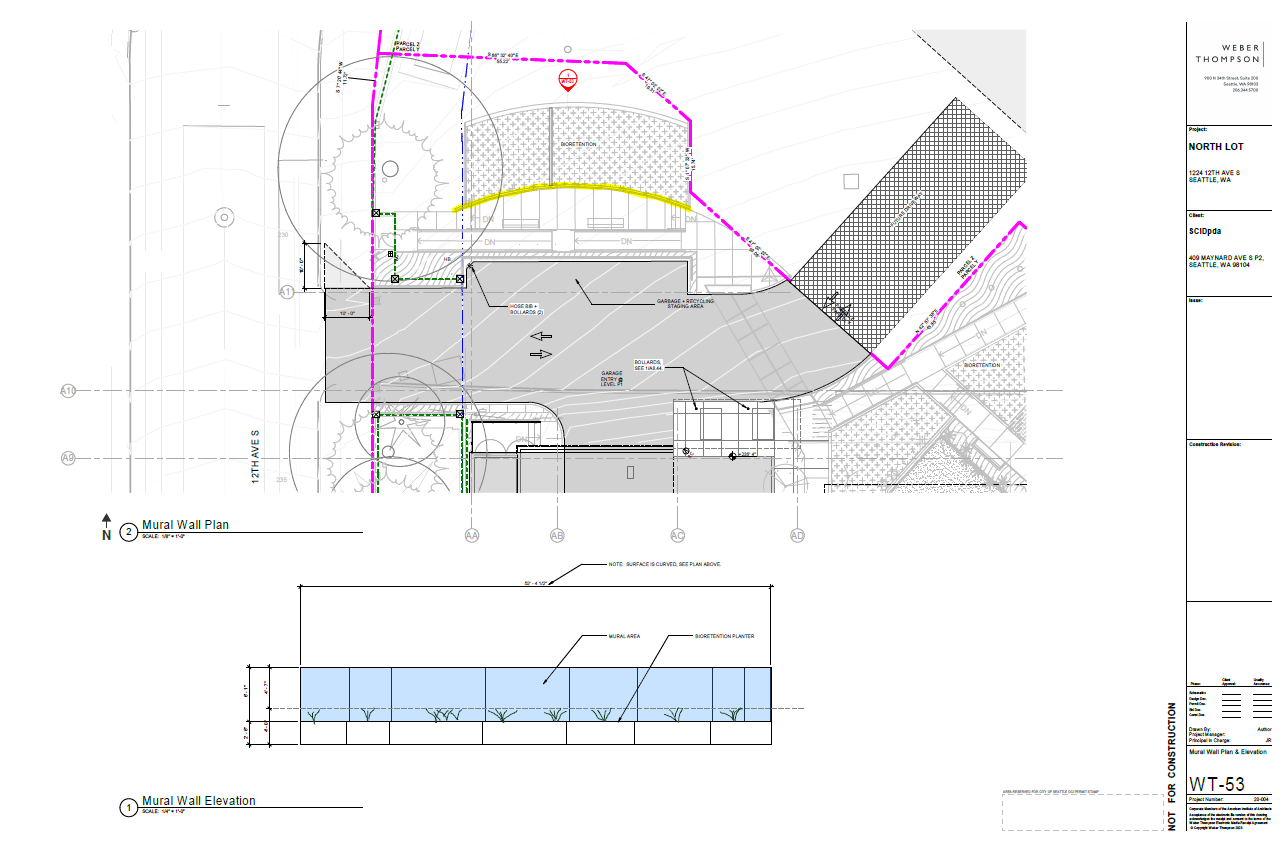 *Mural will be located behind a bioretention area, on a wall that is slightly curved.
*view of mural from the street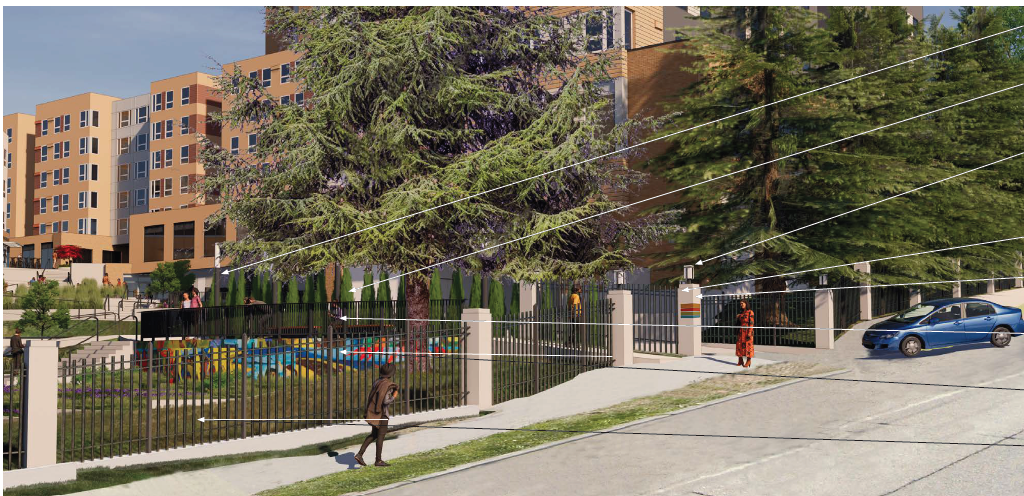 Project Timeline:
| | |
| --- | --- |
| October 2023 | Request for Qualifications issued |
| November 2023 | Request for Qualifications due |
| November – December 2023 | Applications reviewed and artist is selected |
| December 2023 | Artist contracted |
| January 2024 | Artist comes up with preliminary mural design(s) and supports Landmarks Board application |
| February 2024 | Artist presents design to Landmarks Board |
| February 2024 | Artist refines design drafts after Landmarks Board presentation |
| February 2024 | Art Committee reviews design drafts |
| March 2024 | Mural Design finalized |
| June-August 2024 | Artist paints mural |
Project Budget:
Project budget of up to $20,000. Inclusive of artist fee, materials, and equipment.
Artist to propose budget allocation

Budget proposal should include weatherproofing / graffiti coating
Payment Schedule:
35% will be paid upon completion of contract
35% will be paid upon approval of final mural design draft
30% will be paid upon completion of mural
RFQ Submission Materials:
Current CV/resume. Artists must submit one resume/CV per applicant. If applying as a team, please only submit one resume/CV for the whole team.
Cover Letter or Letter of Interest and Approach limited to one page. Applicants should briefly describe their interest in the project and include a description of your creative vision for the project.

Prompt: Which mural theme(s) stand out to you, how would you incorporate the theme(s) into your design? How would you tell the story?

Ten (10) images max of previously completed work that demonstrates an ability to design, create, and paint large scale, outdoor murals. We suggest providing images of 3-5 different artworks with 2-3 distinctive views of each piece, including one wide shot and one detail shot of each artwork. Do not collage multiple images into one image.
Image identification list: An image identification list should be provided corresponding to the submitted images. Information should include image number, artist's name, title, year, media, dimensions, and location.
Submission Format: Responses shall be submitted as a single PDF file.
Submit proposal via email to JulieY@scidpda.org.
Deadline: November 23, 2023 by 12:00 PM PST.
Eligibility:
Artists who are over the age of 18 and located within the United States are eligible to submit their interest and qualifications. BIPOC artists with personal ties to the neighborhood and Seattle are highly encouraged to apply. Artists who have a strong professional profile, experience in producing public murals and/or have successfully worked on collaborative projects of this scale are encouraged to apply. Artist teams may also apply. Artists must be able to adhere to the project timeline.
RFQ Selection Criteria:
Submissions will be scored on the following, with a maximum score of 100 points:
Artistic Excellence (35 points): The artist's work reflects artistic excellence, innovation, and originality as evidenced by quality of craftsmanship and mastery of skills and techniques; demonstrates professional approaches to processes and presentations; and/or communicates a unique vision or perspective
Professional Experience (30 points): The artist's professional experience is adequate to meet the demands of the project, including a proven ability to meet project budgets, deadlines, and to perform work in a timely and professional manner. Public art experience is required.
Experience working on a project of similar scale (20 points): Previous work that can specifically demonstrate the successful completion of projects that include partnering with stakeholders for the purpose of creating public art of this size and scale.
Values and Theme (15 points): How aligned is the artist's proposal and personal outlook reflected in the community values and ability to incorporate the themes and ideas presented.
Submission Deadline:
All materials must be received by 12:00 PM PST on November 23, 2023. Incomplete or late submissions will not be considered.