SCIDpda manages these properties in the CID. Click here for rental criteria. For more information please contact SCIDpda at (206) 624-8929 or info@scidpda.org.
Affordable Housing
Bush Hotel and Domingo Viernes Apartments
Affordable properties do not keep a waitlist; applications are only accepted on vacant units. 
For unit availability: click here, contact SCIDpda at (206) 624-8929 or info@scidpda.org; come by our main office at 409B Maynard Ave S Suite P2 during our business hours (listed at the footer).
To see if you income qualify, click here
HUD Housing
Bush Hotel, Jackson Apartments & New Central Hotel
There are three buildings with 51 total units of housing that are subsidized by HUD.  All households must have one member over the age of 62 or over 55 and disabled at move in. 
These units are filled off a waitlist.  The waitlist is closed and not accepting new applications at this time. We will update this website when with information on the opening of the waitlist.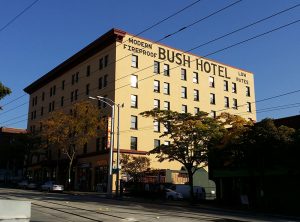 621 S Jackson St
Built in 1906, converted in apartments 1997
95 rental units: 50 studios, 45 1-Bedrooms
The Bush Hotel is located in the heart of the International District right on Hing Hay Park. The building contains 96 units for singles and small families. Sixteen of the units are set aside for senior households and are subsidized directly by HUD.  The unit mix contains subsidized units and 30%, 40% and 50% of AMI.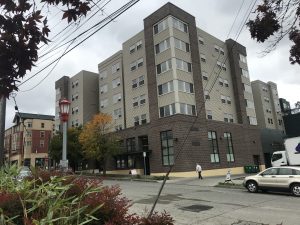 Domingo Viernes Apartments
721 S Lane St
Built in 2004
56 rental units: 
1 Studio, 38 2-bedrooms, 17 3-bedrooms
Domingo Viernes Apartments has 56 units of family housing. Thirty of the units are subsidized through the Seattle Housing Authority. The building has a laundry room, community room, and communal deck with outdoor space and great views of downtown. The building is conveniently located next to the library, community center, and ICHS health center. The units range from subsidized to 50% of AMI.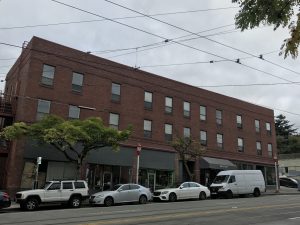 670 Jackson St
Built in 1910
17 rental units: 10 studios and 7 1-bedrooms
The Jackson Apartments has 17 units of housing set aside for seniors. All units are subsidized by Hud. The building is owned by the Jackson Apartments Corporation and managed by SCIDpda.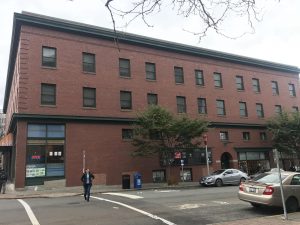 657 S Weller St
Built in 1909, renovated in 2008
28 rental units: 28 1-bedrooms
New Central Apartments has 28 units of rental housing. All units are set aside for seniors and are subsidized by HUD. The building contains laundry facilities and a community space.