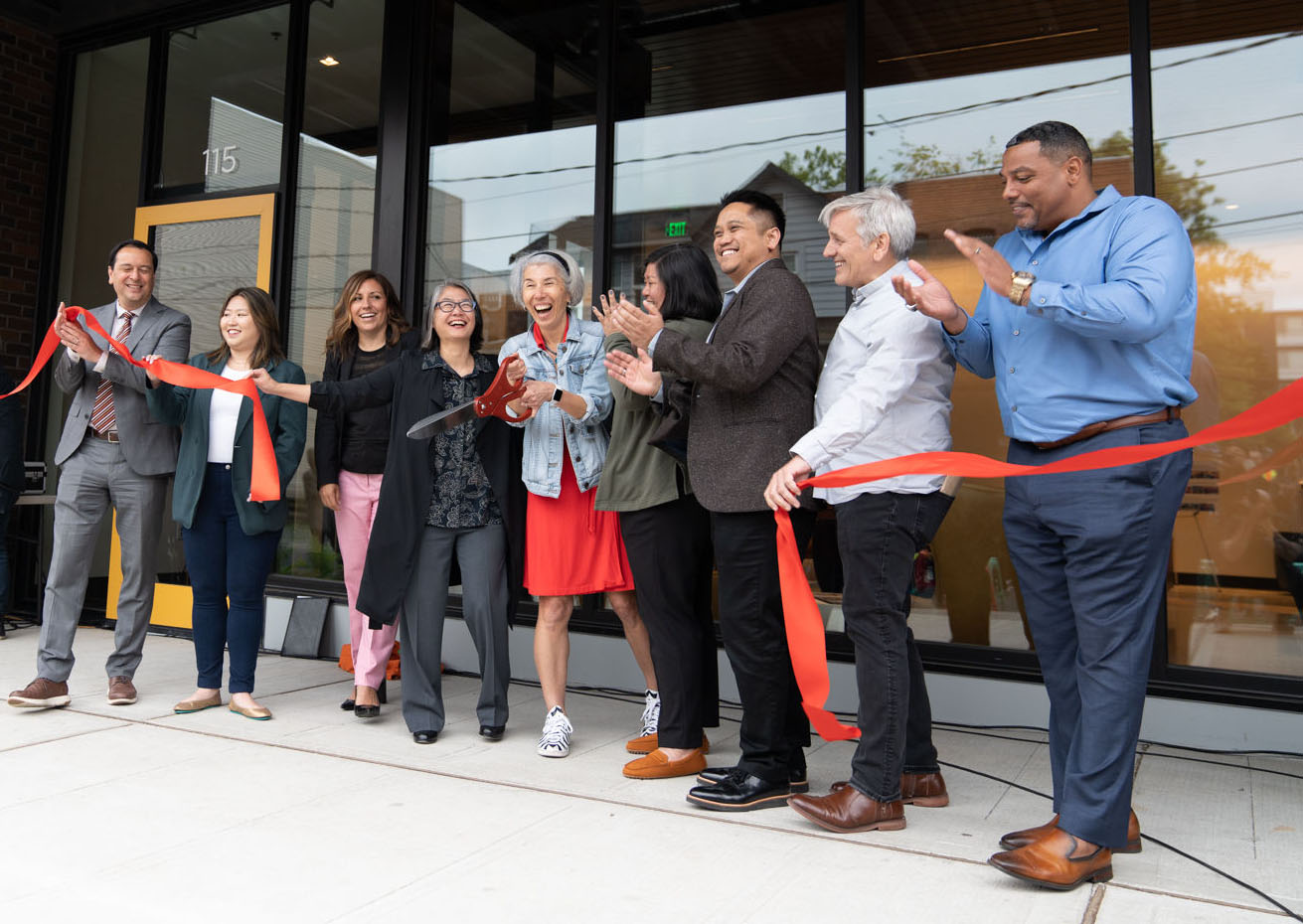 Video Above (Left) by King 5



Pictured Above (Right): Development partners and speakers at the grand opening of 13th & Fir FAMILY HOUSING on June 13, 2023. Left to right: Deputy Mayor Greg Wong, Sue Li (Denise Louie Education Center), Councilmember Teresa Mosqueda, Susan Yang (Denise Louie Education Center), Maiko Winkler-Chin, Director (Office of Housing), Jamie Lee and Jared Jonson (SCIDpda), Chris Persons (Community Roots Housing), Commissioner Gerald Smiley (Seattle Housing Authority)
Last June, SCIDpda (SCIDpda), Community Roots Housing (CRH), and Denise Louie Education Center (DLEC) celebrated the grand opening of 13th & Fir FAMILY HOUSING, a mixed-use development with affordable housing, childcare, and additional commercial space in Seattle's Yesler Terrace neighborhood. Across the street from Bailey Gatzert Elementary school and a stone's throw from Little Saigon, the six-story building brings 156 energy-efficient units of affordable housing — 20% of which are "family-sized" three and four-bedroom units" unusual to the affordable housing sector — to location across the street from Bailey Gatzert Elemetary School and a stone's throw distance to the Little Saigon neighborhood in the Chinatown International District. Additionally, Denise Louie Education Center will provide childcare and early learning services in the 8,400 sq. ft. space on the ground floor of the building — offering services to children from birth up to 5 years of age.
Eligibility for units is based on income, with two tiers at [30% and 60% of the area median income (AMI)]. (https://www.seattle.gov/housing/property-managers/income-and-rent-limits). Rents are adjusted based on income, and the 30% AMI units at 13th & Fir FAMILY HOUSING are subsidized by the Seattle Housing Authority (SHA). In order to benefit previously displaced members of the community, some units are set aside for residents that live or work in the area, or that have been displaced in the past.
Developed by the Seattle Housing Authority (SHA) in the 1940s, Yesler Terrace was Seattle's first publicly subsidized housing community. In 2013, a plan structured from over six years of conversation with the community finally commenced to redevelop the area and nearly double the amount of units in the neighborhood. SCIDpda, CRH, and DLEC, successfully won a RFQ joint-bid from SHA in 2018 to develop the former location of the King County Archives, with a mixed-use community development scoped to address Seattle's critical shortage of affordable housing with the nuanced inclusion of family-sized units (that have successfully been prioritized and developed by SCIDpda in the past) and the childcare services provided by Denise Louie Education Center.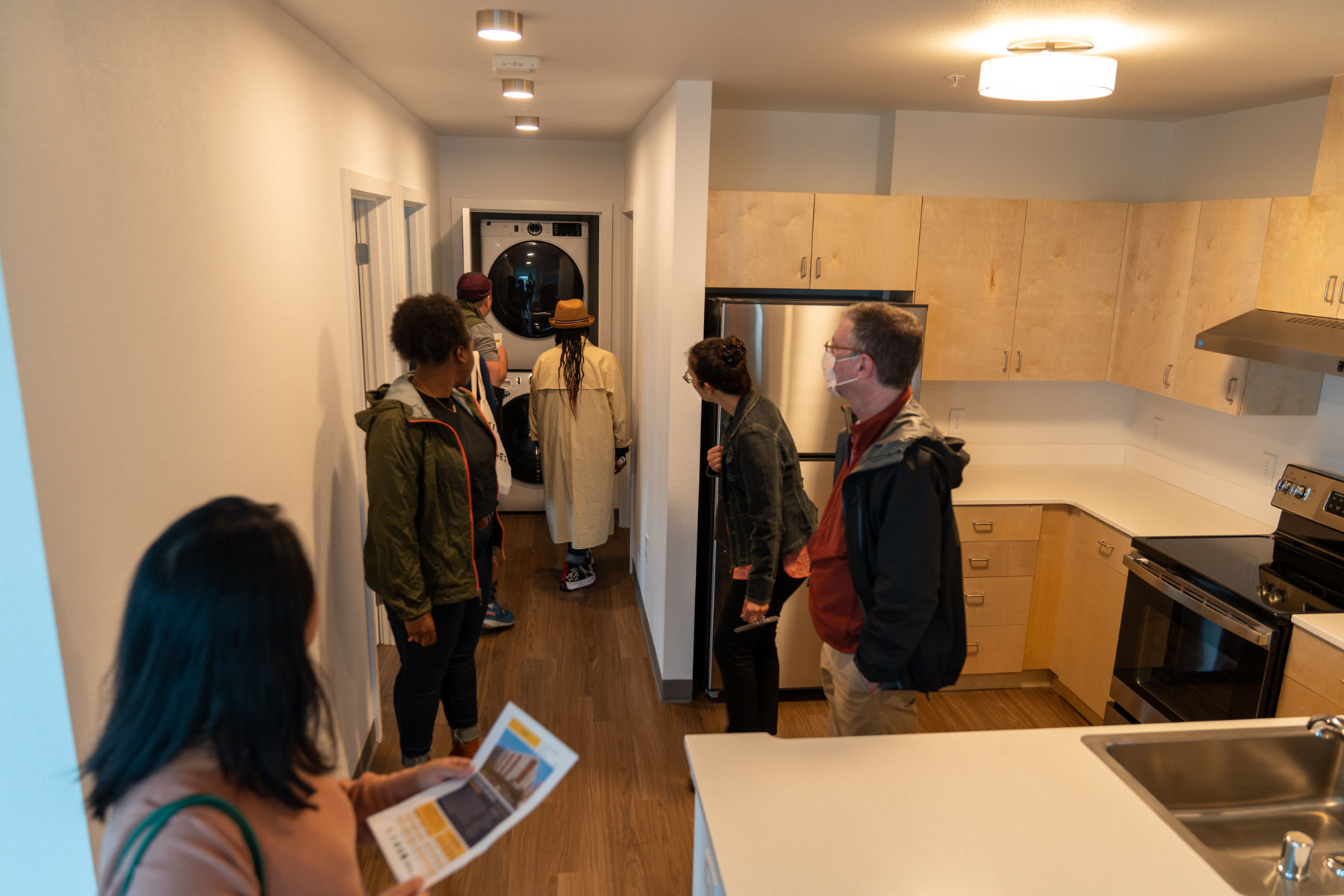 Today, 13th & Fir FAMILY HOUSING stands in one of the most central neighborhoods in Seattle, offering new, current, and returning displaced residents convenient access to jobs, school, healthcare, transit, and opportunity. An all-new construction from the ground up, 13th & Fir FAMILY HOUSING offers its residential tenants secure building access, elevators, a secure package area, community room, bike storage, and an outdoor courtyard. In-unit washers and dryers are available to larger units, and a large communal laundry room is available for residents on the first floor.
13th & Fir FAMILY HOUSING was made possible through a partnership between the Seattle Housing Authority (the landowner and a project funder), the City of Seattle's Office of Housing, Seattle Human Services Department, the Department of Commerce's Early Learning Facilities, and the development team of SCIDpda and Community Roots. Construction financing is provided by Capital One and JPMorgan Chase, and equity is provided by Hudson Housing Capital/Capital One.
SCIDpda, an organization with 48 years of providing services to immigrants and communities of color, serves as the primary developer and property manager. Community Roots Housing serves as co-developer on the project, Mithun is the architect, and Marpac Construction is the general contractor.
13th & Fir FAMILY HOUSING will also be the site of several murals painted by the Community Rejuvenation Project, Damien Mitchell, and Rough Edge Collective projected for completion in September 2023.